K-Pop
Lirik Lagu BTS – Boy With Luv ft. Halsey dan Terjemahan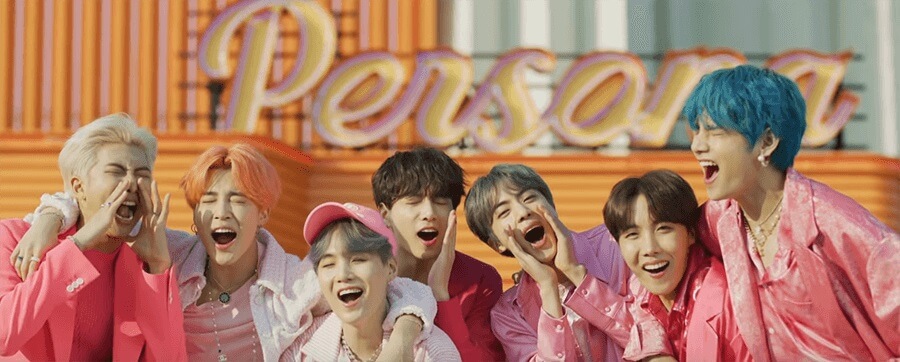 TernyataBegitu.Com – Berikut adalah Lirik Lagu BTS – Boy With Luv dan Terjemahan featuring Halsey. BTS (방탄소년단) – Boy With Luv (작은 것들을 위한 시) ft. Halsey
Bangtan Sonyeondan atau BTS telah comeback dengan album terbarunya Map Of The Seoul : Persona. Kali ini BTS berkolaborasi dengan penyanyi wanita asal Amerika Serikat. Dari perilisannya lagu ini langsung masuk trending youtube dan ditonton lebih dari jutaan kali.
Saking terkenalnya, lagu ini banyak diputar di radio serta televisi. ARMY selaku penggemar pun berharap album dan lagu ini akan meraih penghargaan tertinggi musik Korea Selatan bahkan menggebrak chart Billboard lagi.
BACA JUGA
∞ Lirik Lagu YOUNHA (윤하) – WINTER FLOWER FT. RM BTS
∞ Lirik Lagu Justin Bieber – Yummy dan Terjemahannya
∞ Lirik Lagu MOMOLAND – Thumbs Up [Roamnization]
Simak lagunya yang hype abizz di bawah ini !
Lirik Lagu BTS – Boy With Luv ft Halsey
Judul : Boy With Luv
Artis : BTS (방탄소년단)
Artis Pendukung : Halsey
Genre : Kpop – funk – pop
Album : Map of The Seoul : Persona
Dirilis tanggal : 12 April 2019
Label : BigHit
Lyrics : Pdogg, RM, Melanie Fontana, Michel "Lindgren" Schulz, Bang Si-hyuk (Hitman Bang), Suga, Emily Weisband, J-Hope, Halsey (Ashley Frangipane)
Produser : Pdogg
Hangul
모든 게 궁금해 how's your day
Oh tell me (oh yeah yeah, ah yeh ah yeh)
뭐가 널 행복하게 하는지
Oh text me (oh yeah yeah, ah yeh ah yeh)
Your every picture
내 머리맡에 두고 싶어 oh bae
Come be my teacher
네 모든 걸 다 가르쳐줘
Your one, your two
Listen my my baby 나는
저 하늘을 높이 날고 있어
(그때 니가 내게 줬던 두 날개로)
이제 여긴 너무 높아
난 내 눈에 널 맞추고 싶어
Yeah you makin' me a boy with love
Oh my my my, oh my my my
I've waited all my life
네 전부를 함께하고 싶어
Oh my my my, oh my my my
Looking for something right
이제 조금은 나 알겠어
than a moment, than a moment, love
(Ooh ah ooh ah ooh ah ooh ah ah) I have waited longer
(Ooh ah ooh ah ooh ah ooh ah ooh)
For a boy with, for a boy with love
널 알게 된 이후 ya 내 삶은 온통 너 ya
사소한 게 사소하지 않게 만들어버린 너라는 별
(Oh yeah) 하나부터 열까지 ay ay 모든 게 특별하지 ay ay
너의 관심사 걸음걸이 말투와
사소한 작은 습관들까지 (oh ah)
Ay 다 말하지 너무 작던 내가 영웅이 된 거라고 (oh nah)
난 말하지 운명 따윈 처음부터 내 게 아니었다고 (oh nah)
세계의 평화 (no way)
거대한 질서 (no way)
그저 널 지킬 거야 난 (boy with love)
Listen my my baby 나는
저 하늘을 높이 날고 있어
(그때 니가 내게 줬던 두 날개로)
이제 여긴 너무 높아
난 내 눈에 널 맞추고 싶어
Yeah you makin' me a boy with love
Oh my my my, oh my my my
You got me high so fast
네 전부를 함께하고 싶어
Oh my my my, oh my my my
You got me fly so fast
이제 조금은 나 알겠어
than a boy with love
(Ooh ah ooh ah ooh ah ooh ah ah) love is nothing stronger
(Ooh ah ooh ah ooh ah ooh ah ooh) (than a boy with) than a boy with love
툭 까놓고 말할게
나도 모르게 힘이 들어가기도 했어
높아버린 sky, 커져버린 hall
때론 도망치게 해달라며 기도했어
But 너의 상처는 나의 상처
깨달았을 때 나 다짐했던걸
니가 준 이카루스의 날개로
태양이 아닌 너에게로
Let me fly
Oh my my my, oh my my my
I've waited all my life
네 전부를 함께하고 싶어
Oh my my my, oh my my my
Looking for something right
이제 조금은 나 알겠어 than a moment, than a moment, love
(Ooh ah ooh ah ooh ah ooh ah ah) love is nothing stronger
(Ooh ah ooh ah ooh ah ooh ah ooh) (than a boy with) than a boy with love
Romanization
modeun ge gung-geumhae how's your day
Oh tell me (oh yeah yeah, ah yeh ah yeh)
mwoga neol haengboghage haneunji
Oh text me (oh yeah yeah, ah yeh ah yeh)
Your every picture
nae meolimat-e dugo sip-eo oh bae
Come be my teacher
ne modeun geol da galeuchyeojwo
Your one, your two
Listen my my baby naneun
jeo haneul-eul nop-i nalgo iss-eo
(geuttae niga naege jwossdeon du nalgaelo)
ije yeogin neomu nop-a
nan nae nun-e neol majchugo sip-eo
Yeah you makin' me a boy with love
Oh my my my, oh my my my
I've waited all my life
ne jeonbuleul hamkkehago sip-eo
Oh my my my, oh my my my
Looking for something right
ije jogeum-eun na algess-eo
than a moment, than a moment, love
(Ooh ah ooh ah ooh ah ooh ah ah) I have waited longer
(Ooh ah ooh ah ooh ah ooh ah ooh)
For a boy with, for a boy with love
neol alge doen ihu ya nae salm-eun ontong neo ya
sasohan ge sasohaji anhge mandeul-eobeolin neolaneun byeol
(Oh yeah) hanabuteo yeolkkaji ay ay modeun ge teugbyeolhaji ay ay
neoui gwansimsa geol-eumgeol-i maltuwa
sasohan jag-eun seubgwandeulkkaji (oh ah)
Ay da malhaji neomu jagdeon naega yeong-ung-i doen geolago (oh nah)
nan malhaji unmyeong ttawin cheoeumbuteo nae ge anieossdago (oh nah)
segyeui pyeonghwa (no way)
geodaehan jilseo (no way)
geujeo neol jikil geoya nan (boy with love)
Listen my my baby naneun
jeo haneul-eul nop-i nalgo iss-eo
(geuttae niga naege jwossdeon du nalgaelo)
ije yeogin neomu nop-a
nan nae nun-e neol majchugo sip-eo
Yeah you makin' me a boy with love
Oh my my my, oh my my my
You got me high so fast
ne jeonbuleul hamkkehago sip-eo
Oh my my my, oh my my my
You got me fly so fast
ije jogeum-eun na algess-eo
than a boy with love
(Ooh ah ooh ah ooh ah ooh ah ah) love is nothing stronger
(Ooh ah ooh ah ooh ah ooh ah ooh) (than a boy with) than a boy with love
tug kkanohgo malhalge
nado moleuge him-i deul-eogagido haess-eo
nop-abeolin sky, keojyeobeolin hall
ttaelon domangchige haedallamyeo gidohaess-eo
But neoui sangcheoneun naui sangcheo
kkaedal-ass-eul ttae na dajimhaessdeongeol
niga jun ikaluseuui nalgaelo
taeyang-i anin neoegelo
Let me fly
Oh my my my, oh my my my
I've waited all my life
ne jeonbuleul hamkkehago sip-eo
Oh my my my, oh my my my
Looking for something right
ije jogeum-eun na algess-eo
than a moment, than a moment, love
(Ooh ah ooh ah ooh ah ooh ah ah) love is nothing stronger
(Ooh ah ooh ah ooh ah ooh ah ooh) (than a boy with) than a boy with love
Lirik Lagu BTS – Boy With Luv Terjemahan Indonesia
Aku ingin tahu segalanya, bagaimana harimu
Oh, beri tahu aku (oh yeah yeah, ah yeh ah yeh)
Apa yang membuatmu bahagia?
Oh teks saya (oh yeah yeah, ah yeh ah yeh)
Setiap gambar Anda
Saya ingin meletakkannya di samping tempat tidur saya oh bae
Ayo jadilah guruku
Tolong ajari saya semuanya
Yang satu, dua
Dengarkan bayiku, aku
Saya terbang tinggi di langit
(Dengan dua sayap kamu memberi saya saat itu)
Terlalu tinggi sekarang
Saya ingin menempatkan Anda di mata saya
Ya kamu membuatku seorang anak laki-laki dengan cinta
Oh my my my, oh my my my
Saya sudah menunggu seumur hidup
Aku ingin bersama kalian semua
Oh my my my, oh my my my
Mencari sesuatu yang benar
Saya tahu sedikit sekarang
dari saat, dari saat, cinta
(Ooh ah ooh ah ooh ah ooh ah ah) Saya telah menunggu lebih lama
(Ooh ah ooh ah ooh ah ooh ah ooh)
Untuk anak laki-laki dengan, untuk anak laki-laki dengan cinta
Karena aku tahu kamu ya hidupku adalah segalanya kamu ya
Bintang yang membuatmu sepele
(Oh yeah) Dari satu hingga sepuluh, semuanya istimewa
Saya sedang berbicara tentang keprihatinan Anda
Bahkan kebiasaan kecil kecil (oh ah)
Ay saya katakan semuanya sangat kecil saya menjadi pahlawan (oh nah)
Saya mengatakan nasib bukan milik saya sejak awal (oh nah)
Perdamaian dunia (tidak mungkin)
Pesanan besar (tidak mungkin)
Saya hanya akan melindungi Anda saya (anak laki-laki dengan cinta)
Dengarkan bayiku, aku
Saya terbang tinggi di langit
(Dengan dua sayap kamu memberi saya saat itu)
Terlalu tinggi sekarang
Saya ingin menempatkan Anda di mata saya
Ya kamu membuatku seorang anak laki-laki dengan cinta
Oh my my my, oh my my my
Kau membuatku tinggi dengan cepat
Aku ingin bersama kalian semua
Oh my my my, oh my my my
Anda membuat saya terbang sangat cepat
Saya tahu sedikit sekarang
dari anak laki-laki dengan cinta
(Ooh ah ooh ah ooh ah ooh ah ah) cinta tidak lebih kuat
(Ooh ah ooh ah ooh ah ooh ah ooh) (daripada anak laki-laki dengan) daripada anak laki-laki dengan cinta
Aku akan memberitahumu
Saya diberi energi tanpa menyadarinya.
Langit yang lebih tinggi, aula yang lebih besar
Terkadang saya berdoa untuk melarikan diri
Tapi lukamu adalah lukaku
Saya menyadari itu ketika saya menyadari
Dengan sayap Icarus yang Anda berikan
Untukmu, bukan matahari
Biarkan saya terbang
Oh my my my, oh my my my
Saya sudah menunggu seumur hidup
Aku ingin bersama kalian semua
Oh my my my, oh my my my
Mencari sesuatu yang benar
Saya tahu sedikit sekarang
dari saat, dari saat, cinta
(Ooh ah ooh ah ooh ah ooh ah ah) cinta tidak lebih kuat
(Ooh ah ooh ah ooh ah ooh ah ooh) (daripada anak laki-laki dengan) daripada anak laki-laki dengan cinta
English Translation
I wonder everything, how's your day
Oh tell me (oh yeah yeah, ah yeh ah yeh)
What makes you happy
Oh text me (oh yeah yeah, ah yeh ah yeh)
Your every picture
I wanna put it on my bedside oh bae
Come be my teacher
Please teach me everything
Your one, your two
Listen my my baby I
I'm flying high in the sky
(With the two wings you gave me then)
It's too high now
I want to fit you in my eyes
Yeah you makin 'me a boy with love
Oh my my my, oh my my my
I've waited all my life
I want to be with you all
Oh my my my, oh my my my
Looking for something right
I know a little bit now
than a moment, than a moment, love
(Ooh ah ooh ah ooh ah ooh ah ah) I have waited longer
(Ooh ah ooh ah ooh ah ooh ah ooh)
For a boy with, for a boy with love
Since I knew you ya my life is all you ya
The star that made you trivial
(Oh yeah) From one to ten ay ay everything is special ay ay
I'm talking about your concern
Even small little habits (oh ah)
Ay I tell you everything was so small I became a hero (oh nah)
I say it's not mine from the beginning (oh nah)
World peace (no way)
Huge order (no way)
I'll just protect you I (boy with love)
Listen my my baby I
I'm flying high in the sky
(With the two wings you gave me then)
It's too high now
I want to fit you in my eyes
Yeah you makin 'me a boy with love
Oh my my my, oh my my my
You got me high so fast
I want to be with you all
Oh my my my, oh my my my
You got me fly so fast
I know a little bit now
than a boy with love
(Ooh ah ooh ah ooh ah ooh ah ah) love is nothing stronger
(Ooh ah ooh ah ooh ah ooh ah ooh) (than a boy with) than a boy with love
I'll tell you
I was energized without knowing it.
Higher sky, bigger hall
Sometimes I prayed to run away
But your wounds are my wounds
I realized that when I realized
With the wings of Icarus you gave
To you, not the sun
Let me fly
Oh my my my, oh my my my
I've waited all my life
I want to be with you all
Oh my my my, oh my my my
Looking for something right
I know a little bit now
than a moment, than a moment, love
(Ooh ah ooh ah ooh ah ooh ah ah) love is nothing stronger
(Ooh ah ooh ah ooh ah ooh ah ooh) (than a boy with) than a boy with love
l
Tonton MV Lirik Lagu BTS – Boy With Luv 작은 것들을 위한 시